Here is how you can
remove
or uninstall write protection on pen drive. This is a common problem faced by most users.
Often an error occurs while copying, deleting or modifying data or files for the USB. This happens because it is 'Write-Protected'. Here is a solution to the problem of the USB being write-protected. Follow the steps mentioned in this article to enable the modification, copying or deleting of files from the USB thereafter
Remove write protection from a USB key via the the Registry
Issue
This a very common problem when using USB flash drives. Sometimes when you try to copy or delete files you get an error message "
Remove
the write-protection or use another disk". Furthermore, it won't allow you to format it!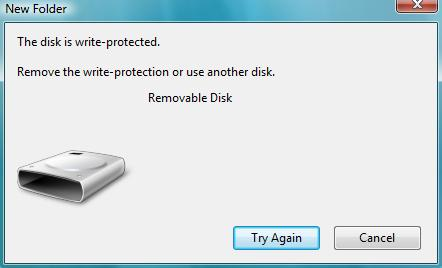 Solution
To
remove
write protection:
Open Start Menu >> Run, type regedit and press Enter. This will open the registry editor.
Navigate to the following path:
HKEY_LOCAL_MACHINE\SYSTEM\CurrentControlSet\Control\StorageDevicePolicies
Double click the key WriteProtect in the right pane and set the value to 0
In the Data Value Box, press OK
Exit Registry, restart your computer and then re-connect your USB pen drive to your computer.
Open Diskpart Utility For Removing Write Protected From Memory card/usb drive

Open Command Prompt and type "diskpart" and press Enter key
.
After opening diskpart type "list disk" and again press Enter button.
Now type "select disk 1″ to select your sd card and press Enter key again.
To remove write protection from sd card type "attributes disk clear readonly" and hit Enter.
Now you are almost done with this process. Simply type "exit" and press enter key once more to exit the menu.
Now, right click on your Sd card and click on Format option to format your card.
That's all, now you can now easily
remove
write protection from micro sd card and can copy your data without any restrictions.